All our shutter parts, repair kits do not require any special skills. Just a bit of patience, follow the instructions on our our videos and your shutter would be working beautifully again. If you are new at shutter repair, please check out the shutter diagrams to learn the terminologies & locate your parts.


When you move your louvers, you expect them to stay in the position you select. If your louvers won't stay open, the remedy is different depend on whether you have Plantation Shutter OR Vinyl Shutter. First examine the joints between the Rails & Stiles. Weak joints can cause the panel to come apart and lose its designed tension. If the Rails & Stiles are separating, then reattach them properly.

For PLANTATION SHUTTER:
If your louvers will not stay open, first check for the presence of tension screws. Most likely you will find them recessed on the outside of each stile. By turning these screws clockwise, you pull the louver(s) closer to the stile. This will causes friction between the louver(s) and stile, and keeps the louvers where you want them.

If all Stile/Rail joints are in good shape, and you shutter panel does not have tension screws, then your next option is to install tension springs

.
For VINYL, POLYSATIN SHUTTER:

If your louvers keep flopping down, replace the Vinyl Tension Louver Pin (dome head). Insert Tension Louver Pin (part # 1579) on 1 end of louver, and Louver Repair Pin (spring loaded, part # 1570) on the other end of louver.
If step above does not solve the problem, then clip the small Clear plastic C tensioner (part #5384) in between the louver end cap & stile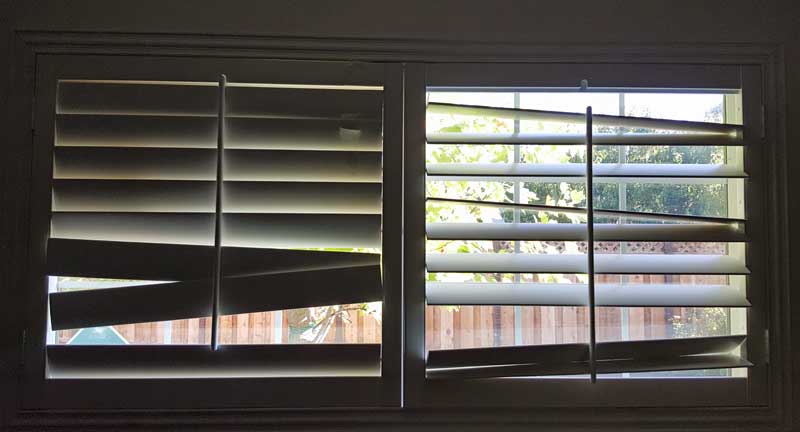 PLANTATION SHUTTER: ONLY nylon pins are used to pivot the louvers. Each nylon pin has a 1/32 in shoulder, allowing even spacing between the louver and style. Nylon pins eliminate the problem of shrinking, swelling and wear with movement associated with using wood dowels on the louvers. This allows you to consistently move the louvers easily.